Top Ten Tuesday was created by The Broke and the Bookish and was moved to That Artsy Reader Girl. I follow several book bloggers and kept seeing these lists every Tuesday, so I finally followed the link one day to find out more. They look like fun, so I decided to start doing some of them.
This week's topic is the first 10 book reviews you've done. Technically, I think my first book review was back in 3rd grade, but that was an awfully long time ago and I don't even remember which book it was.
I didn't start reviewing books online until I stumbled on Goodreads in 2012. Then grad school for really busy and I had my first baby, so, after a few reviews, I didn't write another until 2015 and didn't post them on a blog until 2017 on a blog that I've since deactivated, but those reviews have been moved to this blog.
I usually write my own summaries of the books I read, but all of these are from so long ago that I'm afraid my memory might be too faulty, so I got the descriptions from Goodreads.
As far as I can tell, these were the first 10 reviews I wrote, in no particular order because I discovered I kept really bad reading records.
---
1. South of Superior by Ellen Airgood
When Madeline Stone walks away from Chicago and moves five hundred miles north to the coast of Lake Superior, in Michigan's Upper Peninsula, she isn't prepared for how much her life will change.
Charged with caring for an aging family friend, Madeline finds herself in the middle of beautiful nowhere with Gladys and Arbutus, two octogenarian sisters-one sharp and stubborn, the other sweeter than sunshine. As Madeline begins to experience the ways of the small, tight-knit town, she is drawn into the lives and dramas of its residents. It's a place where times are tough and debts run deep, but friendship, community, and compassion run deeper. As the story hurtles along—featuring a lost child, a dashed love, a car accident, a wedding, a fire, and a romantic reunion—Gladys, Arbutus, and the rest of the town teach Madeline more about life, love, and goodwill than she's learned in a lifetime.
A heartwarming novel, South of Superior explores the deep reward in caring for others, and shows how one who is poor in pocket can be rich in so many other ways, and how little it often takes to make someone happy.
My rating: 4. I still think it was pretty good!
---
2. Flowers for Her Grave by Jean Sheldon
When a young woman shows up in Raccoon Grove claiming to be a missing girl from a 20-year-old murder, the local gossip columnist and gardener team up to discover the truth. Accidents threaten to put a stop to their investigation and to the garden party where they plan to reveal what really happened. No one could have guessed the truth. Neither will you in this surprising whodunit.
My rating: 3. I don't actually remember reading this one.
---
3. Gold and Fishes by Donna Carrick
Foreign aid worker Ayla Harris is struggling to bring hope back into the ruins of post-tsunami Indonesia. But when she discovers that her disreputable brother-in-law is missing, she sets out to find him and soon realizes that her own life is in terrible danger.
My rating: 4. I remember this was a really great book centered on the 2004 tsunami in Indonesia.
---
4. Cathedral of Dreams by Terry Persun
In Newcity, everyone is content. Bad feelings are not allowed, because your monitoring chip will alert the police to bring you in for treatment. Getting better is mandatory. Unchecked emotions made the world outside Newcity dangerous, unruly, and violent. At least that's the official story in Newcity.Keith knows something is wrong. Strange visions lead him to become one of the few who escapes Newcity. He finds freedom and companionship outside, but pressure building to revolt against the city's insidious regime of social control.. Leadership is thrust upon him, with only his visions for guidance, only a small band of friends for support-and the fates of both Newcity and the outside world at stake.Cathedral of Dreams is a compelling tale of a dystopian future and personal heroism.
My rating: 2. Seriously don't remember this one.
---
5. The Stranger by Scott W. Clark
I have no book description because it looks like it was removed and I have no clue what it was about.
My rating: 1.
---
6. High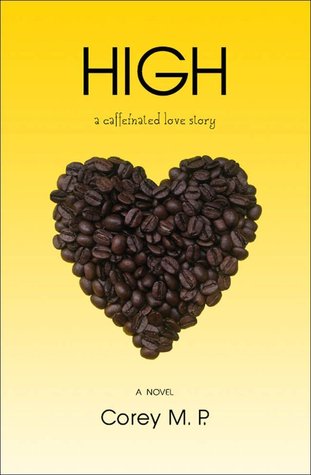 Sonja Fines is a thirty-year-old, uptight, sleep deprived, workaholic from Manhattan who hasn't taken a day off in years. On a Friday before a Fourth of July weekend, she hops in a cab, late for an important presentation, but ends up in a coffee shop…in Montreal. Shocked by her sudden escape, she meets laid-back Chad Miller. They spend the next three days together, and quickly fall for each other. Sonja has never been happier. But when Chad suddenly reveals something from his past, Sonja flees in a hurry—and her life turns upside down. Overwhelmed with emotions, she embarks on a roller coaster of spontaneous decisions that change her life dramatically.
My rating: 3. I think it was written by a blogger I followed. Sorry to say I didn't love her book.
---
7. For Internal Use Only by Cari Kamm
What happens when you stop chasing fairy tales and start creating your own?
Chloe Kassidy has just been accepted into one of Manhattan's most exclusive art exhibits, Love Through Light. However, with her singular dedication to her career, she soon realizes that in sacrificing her personal life, she has never been in love. A hopeless romantic who is terrified of heartbreak, Chloe begins to enlist the help of her circle of friends to learn about love through their very different stories and experiences.
In Chloe's emotional rollercoaster to having the greatest love story ever told, she'll learn that like her photography she must use the negatives in life to develop and prove that she's a strong woman who found her way to love through light.
Inspired by the notion that women grow up with ideas of true love and destiny, For Internal Use Only approaches those ideas with a decidedly twenty-first century viewpoint. A humorous love story with an edgy and dramatic twist, For Internal Use Only is a vastly entertaining novel that gives each of us a new fairy tale to look forward to: our own. 
My rating: 2. I wanted to like it, but mostly ended up really annoyed, so I skimmed the last half.
---
8. Nocturne of the Sun by Brenden Parkins
In a time where magic is reborn, Nocturne of the Sun follows the story of a young man, Byako Leoka. 
A book steeped in complex magic, unusual characters, and spoonfuls of wit. 
Byako carries within him a unique gift, one which has not been seen since time immemorial. 
Follow the adventures of Byako Leoka as he travels to master the power he was born to wield.
My rating: 2. I really don't remember reading this.
---
9. The Legacy of the Key by S. L. Morgan
No matter where you are, facing your reality with passion and purpose will always lead down the path you were intended to go.
Reece Bryant was able to pick up the pieces of her broken life after the sudden death of her father. Though emotionally draining, she found the courage to move on, which would have made her father proud.
After finalizing the last of his estate, and returning to pursue her degree in medical school, she has never felt so confident. While making her way through this world on her own, she is suddenly confronted with the truth of her existence, and the reality of her future.
It is when she encounters two alluring and mysterious men, that a series of extraordinary events takes place, putting Reece's life in grave danger. With her life in the balance, Reece must blindly trust the two mysterious strangers; and when she does, she is brought into an enchanting world that is beyond her logical comprehension. This captivating land reveals new worlds and new dimensions to which her existence is paramount.
But it is once she falls in love with the stunning Levi Oxley that everything will change, and Reece's life will be in more danger than ever before. Forced to return to Earth and face a Council of Worlds, Reece discovers there is more to this enchanting dimension than she could have ever imagined.
At a moment's notice, even thru the fog of our denial, our journey can become crystal clear. And within the revelation, once our fear subsides, we can find contentment and purpose if we focus on the things that matter most.
Trust—Courage—Love. 
My rating: 1. I just really hated this book, which was full of no action.
---
10. Primal Fear by William Diehl
Martin Vail, the brilliant "bad-boy" lawyer every prosecutor and politician love to hate, is defending Aaron Stampler, a man found holding a bloody butcher's knife near a murdered archbishop. Vail is certain to lose, but Vail uses his unorthodox ways to good advantage when choosing his legal team–a tight group of men and women who must uncover the extraordinary truth behind the archbishop's slaughter. They do, in a heart-stopping climax unparalleled for the surprise it springs on the reader…
My rating: 5. I really loved the psychology parts. It was a good legal thriller, too.